Paper dan Buku tentang Augmented Reality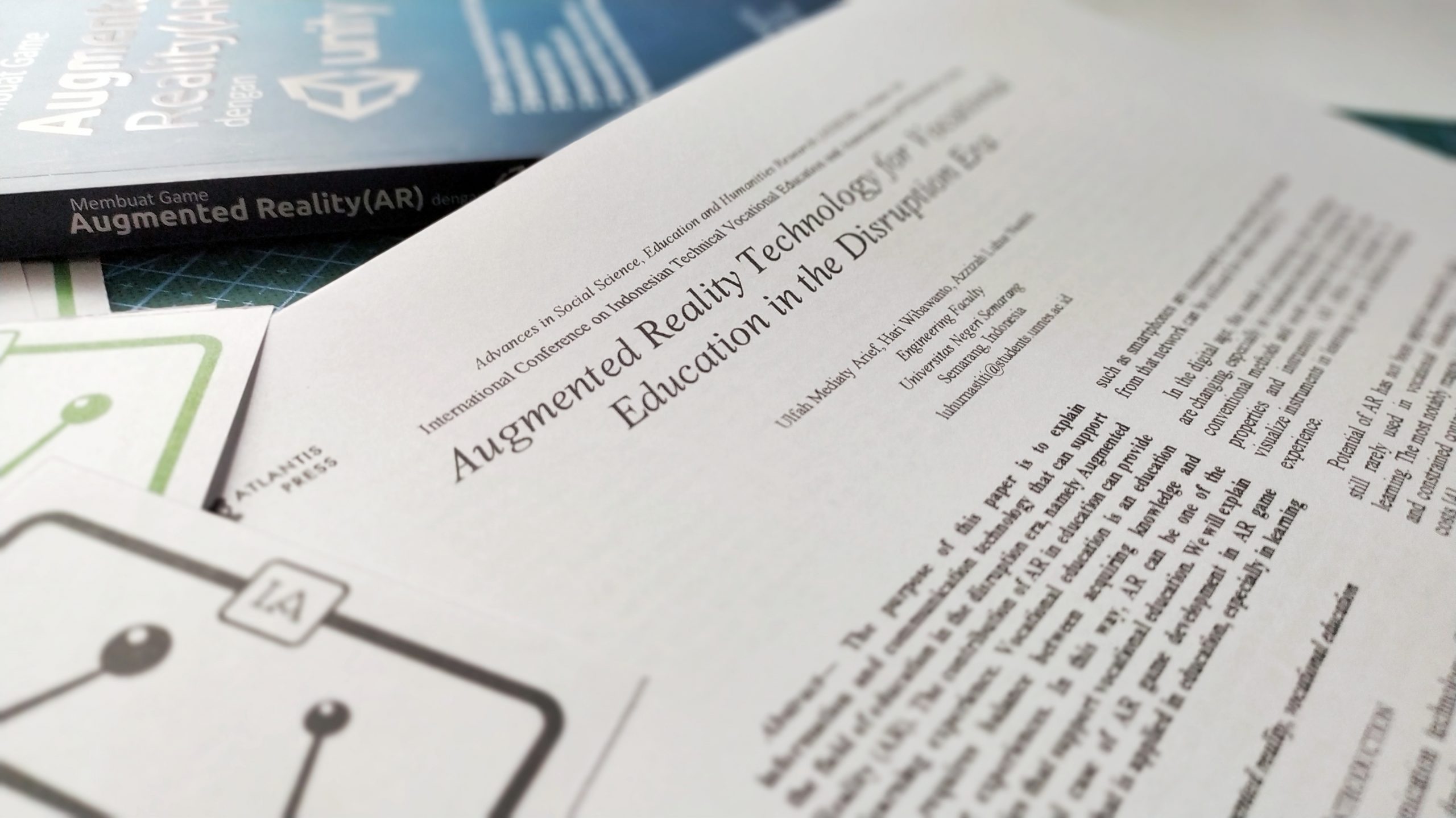 Apa Anda sedang mencari referensi berupa buku atau paper tentang Augmented Reality? Berikut artikel tentang paper dan buku saya.
My International Paper
Tahun 2018, saya pernah membuat sebuah paper di konferensi internasional yang diselenggarakan UNESA. Nama konferensinya yaitu 'Conference: International Conference on Indonesian Technical Vocational Education and Association (APTEKINDO 2018)'. Ada sedikit kisah yang cukup menarik dibalik proses pembuatan paper saya ini. Jika Anda berminat untuk membacanya, Anda bisa mengunjungi Medium saya di artikel Good Things Take Time.
Ide dan Konsep
Paper saya berjudul Augmented Reality Technology for Vocational Education the Disruption Era. Saya mengambil ide di kondisi yang sedang hangat waktu itu, yaitu revolusi industri 4.0. Kebetulan, saya juga baru menyelesaikan satu buku yang menarik dari penulis Rhenald Kasali berjudul Disruption. Karena menurut saya, kondisi disrupsi akan memberi pengaruh juga di bidang industri. Sehingga, pendidikan vokasi perlu adanya pengembangan dan inovasi.
Teknologi tersebut pada saat itu, masih menjadi hal yang awam di sekitar kita. Tapi, beberapa fitur di aplikasi mobile sudah mulai perlahan memperkenalkan teknologi tersebut. Apa Anda ingat game Pokemon Go? Itu adalah salah satu contoh penerapan Augmented Reality di bidang game. Dan mungkin, teknologi Augmented Reality bisa menjadi salah satu yang berkembang pesat di suatu saat nanti.
Ini menjadi salah satu karya yang saya impikan. Proses dan perjuangannya selalu saya ingat, karena saya memang suka sesuatu hal yang mengusung futurisme. Mungkin, nanti saya juga akan berbagi ilmu saya yang masih sedikit ini kepada Anda terkait paper, skripsi, dan buku.
Publikasi
Publikasi saya ada di ResearchGate dan juga di prosiding Atlantis-Press. Selain itu, buku saya tentang Augmented Reality juga bisa dilihat di artikel My Project : Augmented Reality Game 'ARChemy'.
Terima kasih sudah berkunjung, semoga bermanfaat, ya ~♥(ˆ⌣ˆԅ)
---
---